Schedule Your Free Consultation Today!
With over 35 years of experience, we have proven that we are the top pavers contractor to transform your outdoor living space.
We service the Los Angeles, Orange County, Inland Empire, and Desert areas.
Complete the form to schedule your free consultation.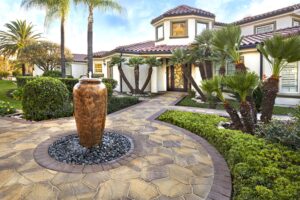 Elevate Your Outdoor Living with Stunning Interlocking Pavers
Complete the form on this page to schedule your free pavers consultation today.
Why Belman Pavers?
Expert Craftsmanship: With over 35 years of experience and a team of skilled professionals, we take pride in delivering top-notch craftsmanship and attention to detail in every pavers installation we undertake.
Endless Design Possibilities: We understand that every homeowner has unique preferences and requirements. That's why we offer a wide range of interlocking paver styles, colors, and patterns to suit your taste and complement your home's architecture.
Exceptional Durability: We only work with interlocking pavers that are built to withstand the test of time and the elements. Pavers are designed to resist cracking, fading, and shifting, ensuring a long-lasting investment for your outdoor space.
Personalized Service: We believe in delivering a personalized experience to our clients. Our team will work closely with you to understand your vision and provide tailored solutions that meet your specific needs, preferences, and budget.
Pavers vs Concrete?
Pavers
Pavers can handle up to 8,000 psi, making them extremely durable.
Pavers are easier and more affordable to repair due to having individual interlocking pieces.
Pavers come in a variety of shapes, colors, and textures making it the perfect choice for designing your outdoor living space.
Pavers are made to be non-slip and non-skid, a safer choice for driveways, walkways, and pool decks.
Pavers can also improve the resale value of your home.
Concrete
Concrete can handle up to 3,000 psi, making it more prone to cracking.
Might be a cheaper option initially, but long-term costs for repairs or replacements will be more expensive.
Not many design options. Limited to stained or stamped concrete styles.